CoverSeal BBQ Cover
Ideal for a 2-3 burner barbecue without side trays
Dimension (inches):
48" L x 24" W x 48" H
Regular price
Sale price
$80.00 USD
Unit price
per
Sale
Sold out
The only outdoor cover featuring a 360° weighted bottom
CoverSeal is here to offer you something that no other grill cover can offer! Its innovative patented design, which includes a tough weatherproof apron and sand-weighted bottom completely seals from the ground up. This durable cover keeps pests, mold, dust, and the sun's UV rays off of your grill, ensuring it stays in great shape no matter the weather or what it's exposed to. 
Includes:
Durable storage bag allows for space-saving convenience when not in use
WHY COVERSEAL COVER

The only cover that features:

Sand-weighted apron seals the durable cover to the ground and won't blow away.

Protects your car from rain, snow, pests, dirt, mildew, and UV damage.

Easy to use.

Covers every part of your grill for total grill protection.
SPECIFICATIONS

Ultraviolet Light Protection: UV Rays

Water Resistance Level:  Water-Resistant

Material: Polyester, Polyvinyl Chloride

Color: Silver

BBQ & Smoker covers weight between 15-25 lbs
Share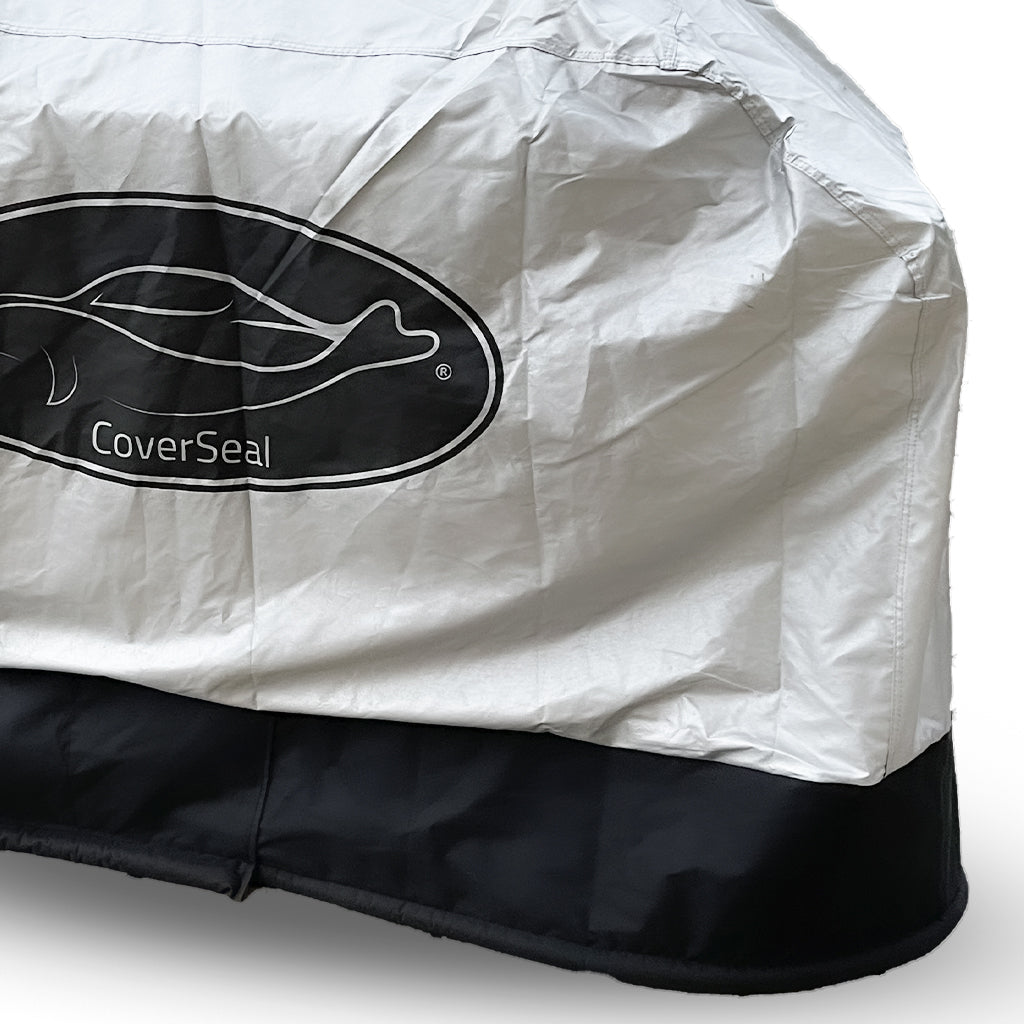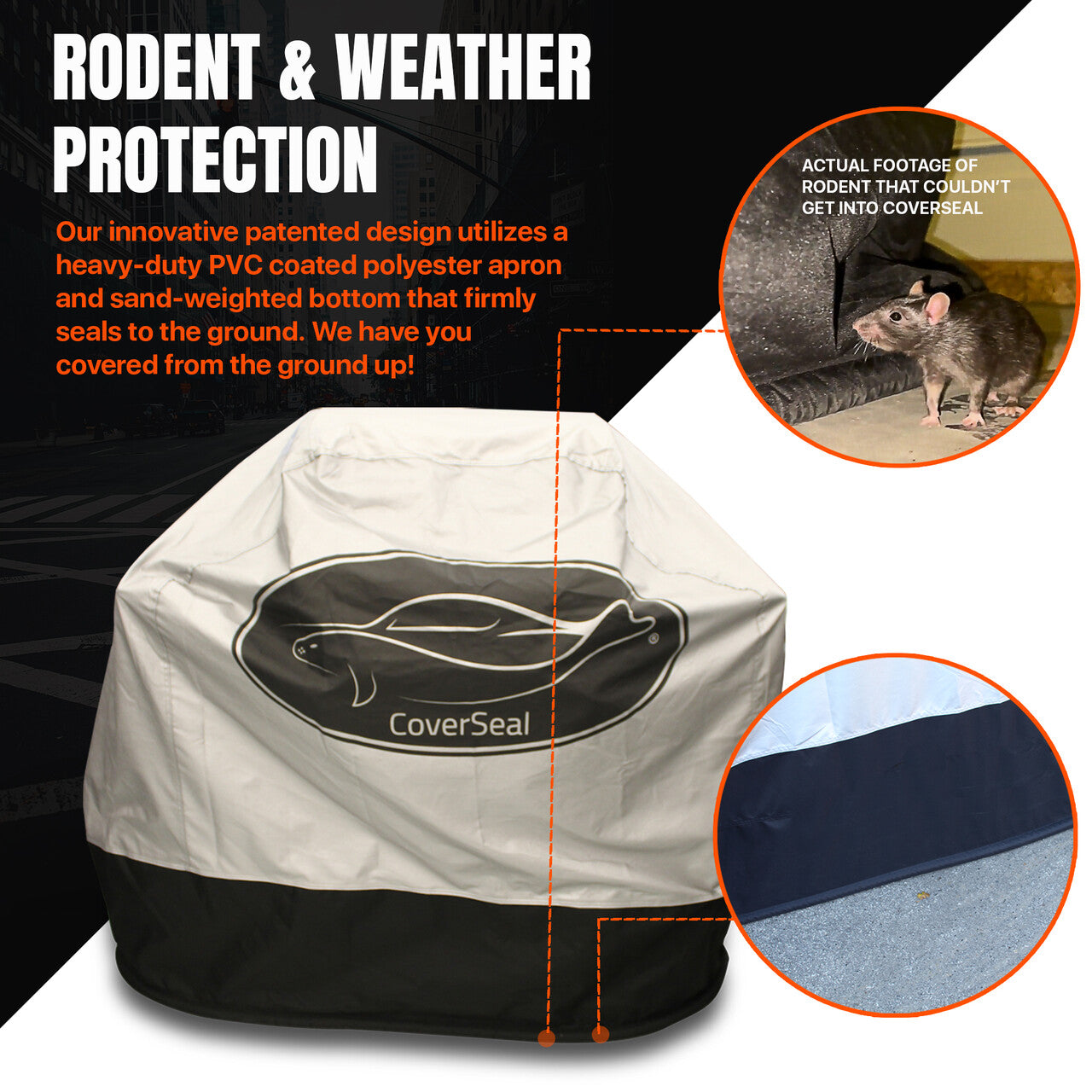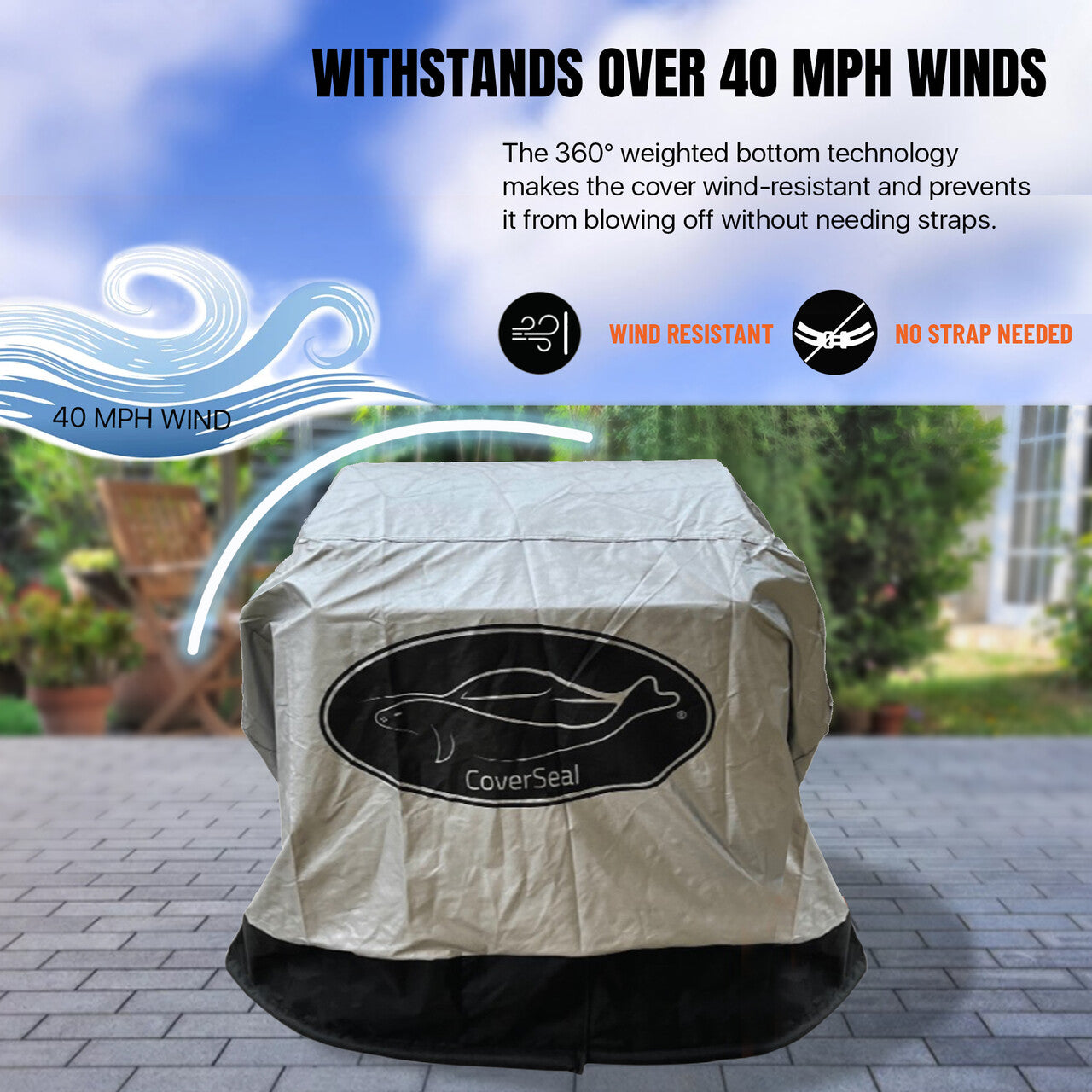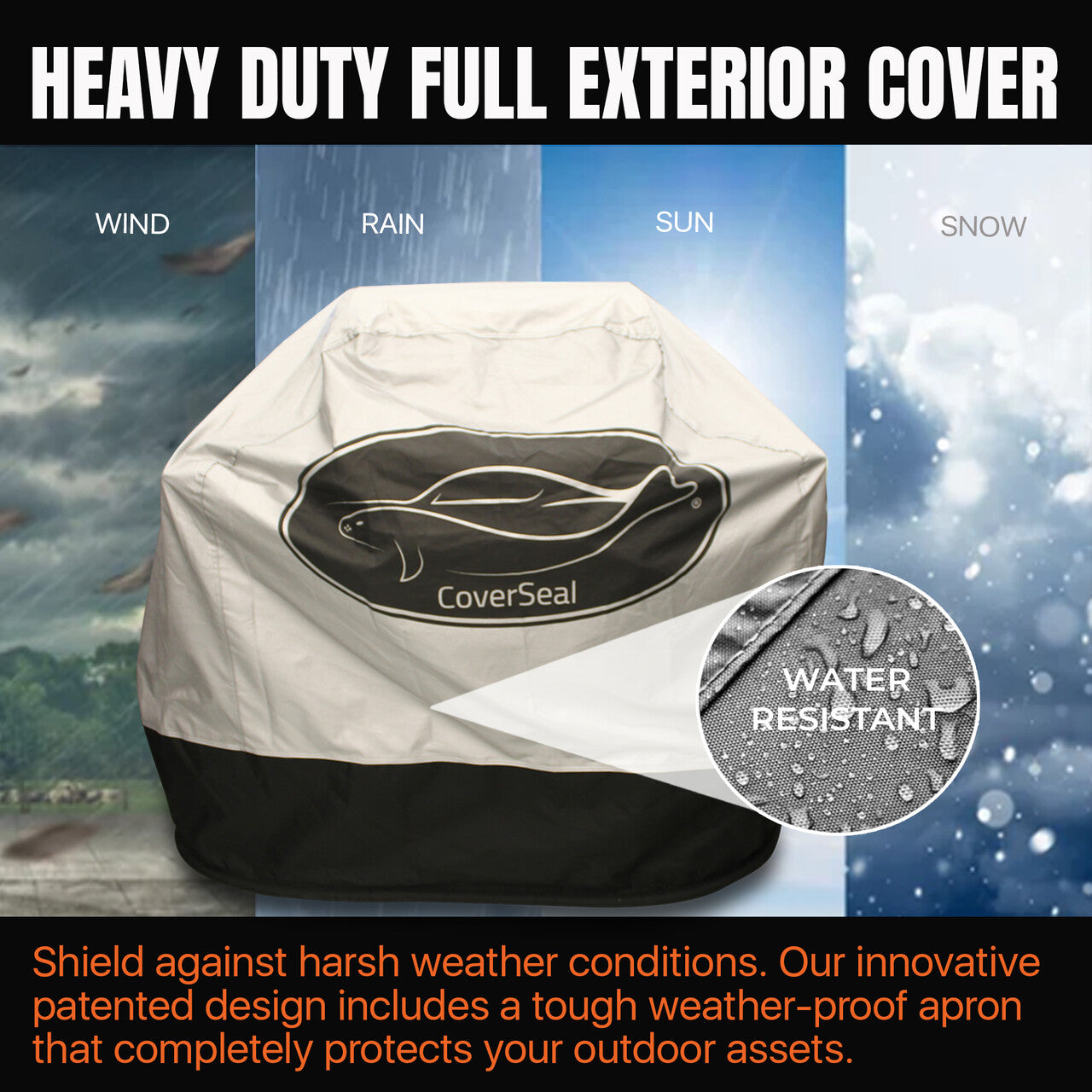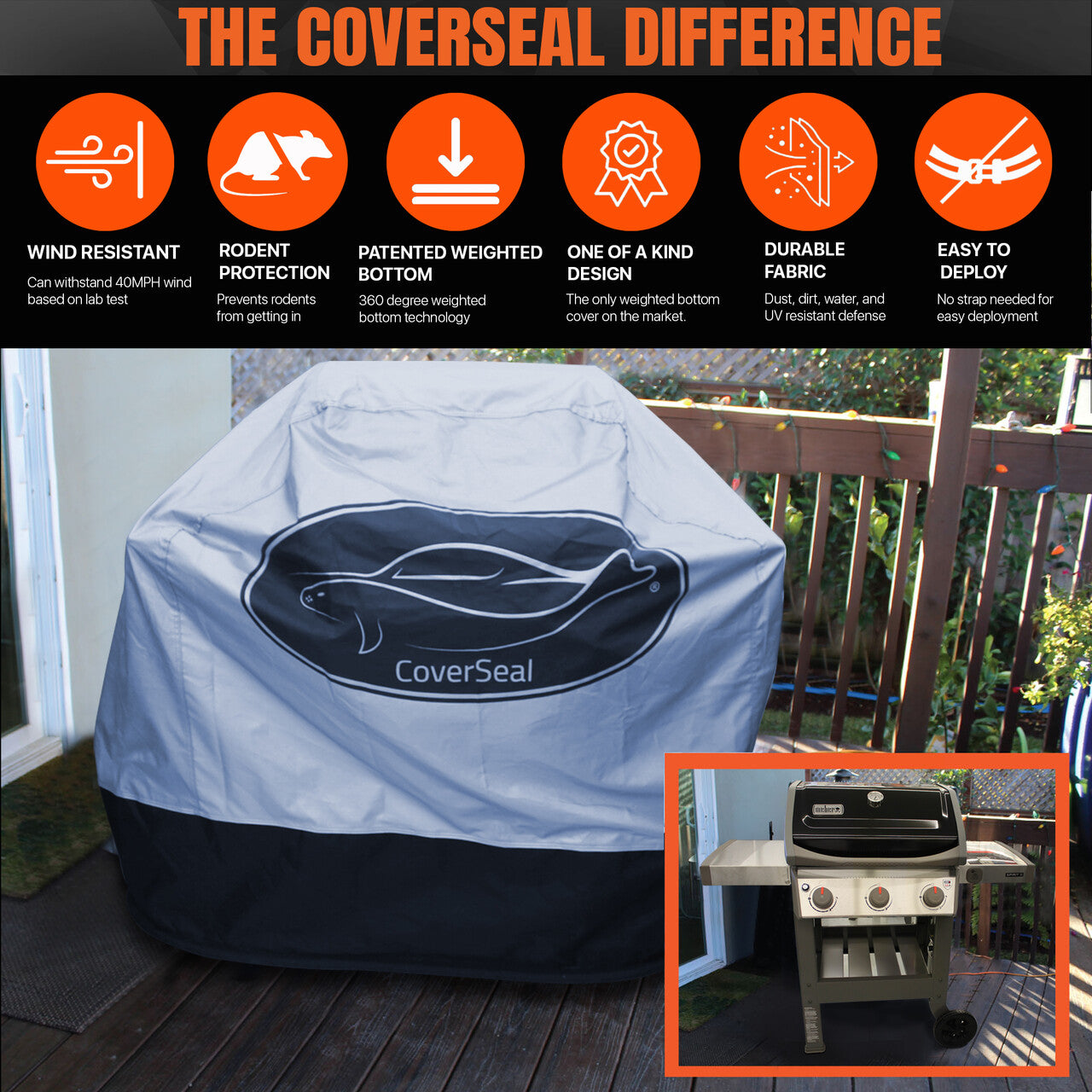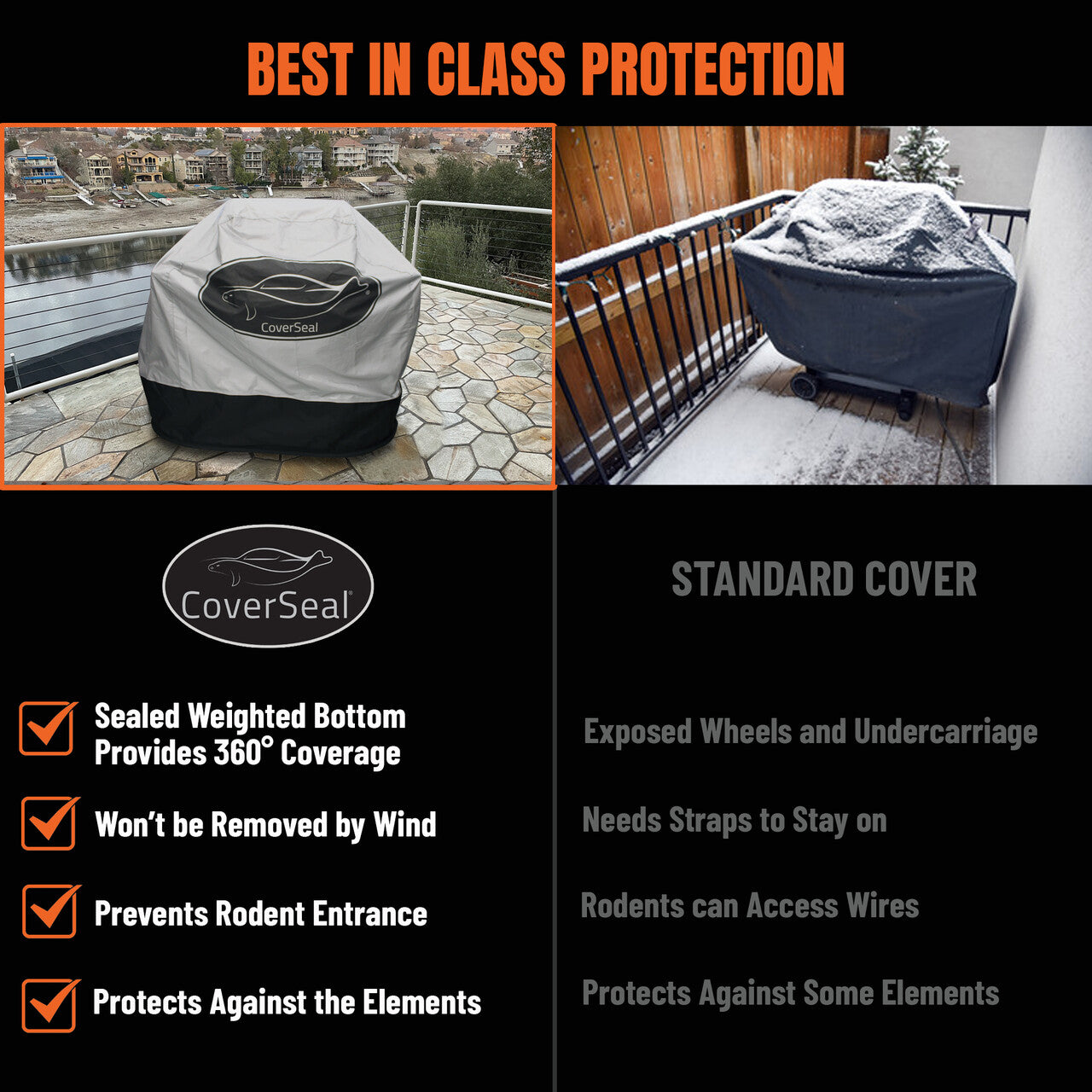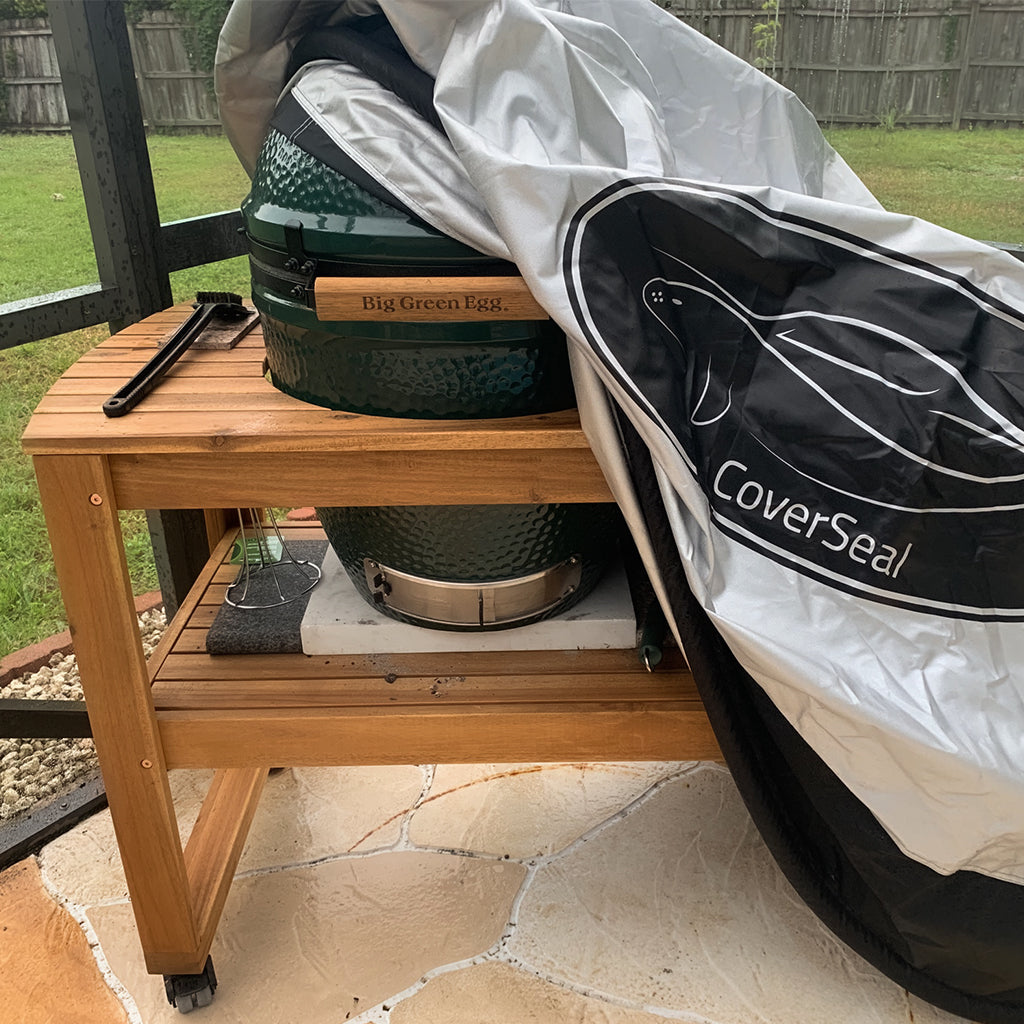 Year-round Protection
The water resistent CoverSeal BBQ Cover helps prevent rust and corrosion and keeps your barbecue in prime condition throughout the year; High temperature safe up to 400ºF, breathable yet tear-resistant outdoor gas grill cover will safeguard against harmful UV rays by reflecting 90% of sunlight and withstand up to 40 MHP winds.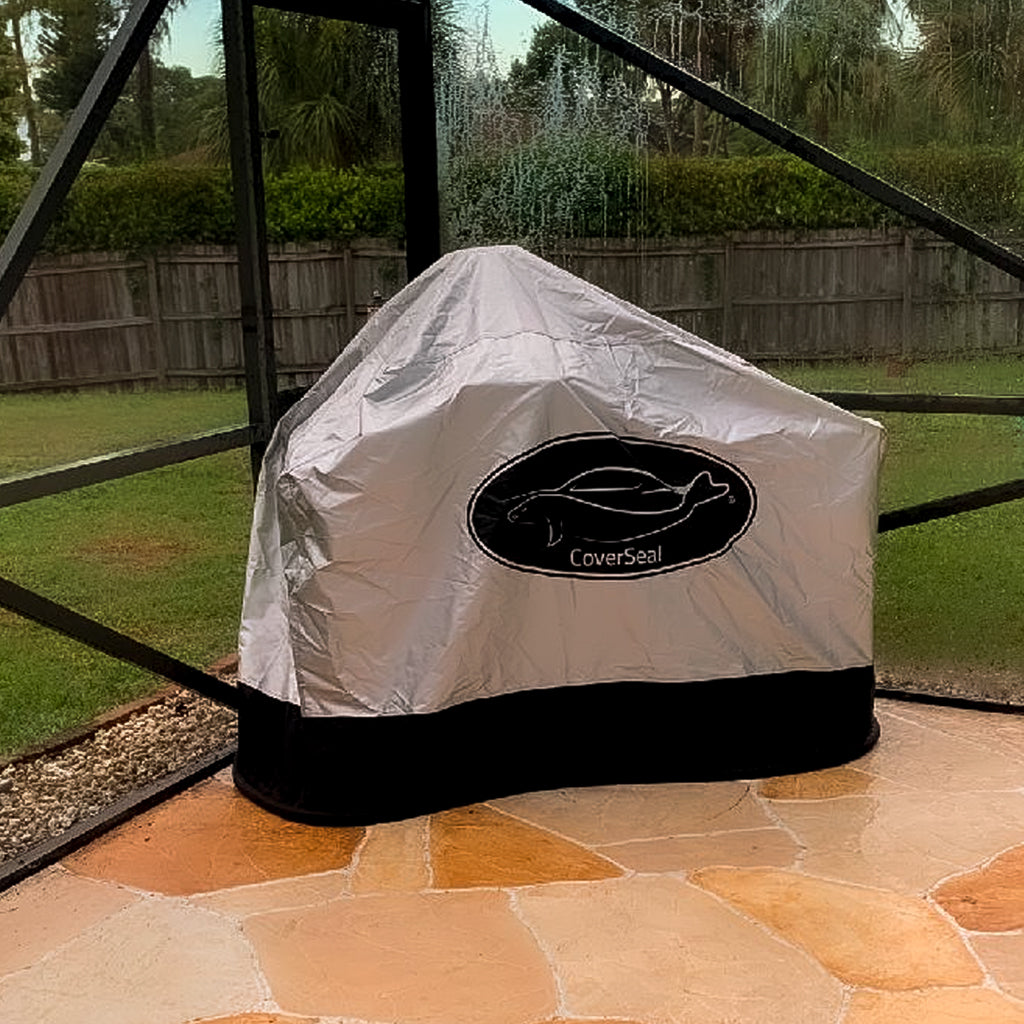 Easy to put on & store
Utilizing Patented CoverSeal ground seal, our BBQ Cover does not require fastening straps as it will firmly stay in place; Universal in purpose to fit specific size category grills, regardless of brand, Smooth-foldable for space-saving storage convenience.
FAQ
How do CoverSeal covers prevent rodent damage?

CoverSeal uses its patented weatherproof, weighted apron to seal the cover to the ground. Critters of all shapes and sizes avoid lifting the cover's heavy edge.  They will travel around the cover, realize there is no entry point, and move on in search of a more convenient shelter.
Is it OK for the cover to sit on the ground?

The bottom edge apron is completely waterproof it is made of thick >10mil high grade tarp.  This material does not degrade sitting on the ground.
Why isn't the cover more form fitting?

The covers are designed to be loose fitting.  The main reason is that it allows them to flutter in the wind.  Water is trapped in nooks and depressions in most covers, but CoverSeal will billow up in the wind, snapping the excess water off the cover. 
Does the cover come in any other color?

Silver reflects >90% of the sunlight.  It keeps the materials, furniture and barbecues cool.  The reflected sunlight also doesnt degrade the color of your cushions and improves the lifetime of the cover, keeping the CoverSeal material in top shape.
Why doesn't the cover have side-mirror pockets?

Many covers rely on the side mirror pockets to help lock the cover onto the car, especially in wind.  These are not needed with CoverSeal.  The weighted apron provides a much more effective locking of the cover down on the car.