CoverSeal Light-Duty Indoor Use Car Cover - An Effective Barrier
Ideal for Corvette, BMW i8, Ferrari, or Subaru WRX or other smaller cars
Dimension (inches):
189" L x 70" W x 67" H
Regular price
$150.00 USD
Regular price
Sale price
$150.00 USD
Unit price
per
Sale
Sold out
The only outdoor cover featuring a 360° weighted bottom
The innovative patented design offers you so much more than a shield between your car and harsh weather. Because CoverSeal offers a 360
weighted bottom, creating a barrier from the ground up and isn't form-fitting, you get the ultimate protection from the elements and pests. If stopping intruders were not enough, we are the only cover that stays on in high winds without the use of bungee cords or straps.  The high-quality durable, material used reflects 90% of sunlight, protecting your paint, windows, and tires. CoverSeal offers patented Ground Seal technology, which prevents rodents, insects dust and dirt from getting in and won't blow away!*
Includes:
Durable storage bag allows for space-saving convenience when not in use
SIZE-CONFIRMING TIPS

As the dimensions listed are of maximum fit, please confirm the vehicle's size before purchasing our weather resistant car cover; Follow your favorite website to check measurements, following year, model type, and taking into account upgraded tire size, lift, roof rack/crossbars, if you have them; (Note: Our car protection covers are not form-fitting, so if your car is lower you will get more width)

Size Chart COMING SOON!
WHY COVERSEAL COVER

We are covers REINVENTED!

Patent protected 360° weighted apron sealing the cover to the ground.

Will not blow away! Lab test to withstand high winds up to 40mph.

Doesn't require bungee cords or straps to stay in place.

Stops critters, insects, dirt and dust from entering.

High-quality, weather-resistant fabric provides barrier from the environment and reflects 90% of the sunlight.

Protects under high tempetures – Will not ignite protecting from wildfire ash up to 300°F
SPECIFICATIONS

Ultraviolet Light Protection: UV Rays

Water Resistance Level:  Water-Resistant

Material: Polyester, Polyvinyl Chloride

Color: Silver

Car covers weight between 45-50 lbs
Share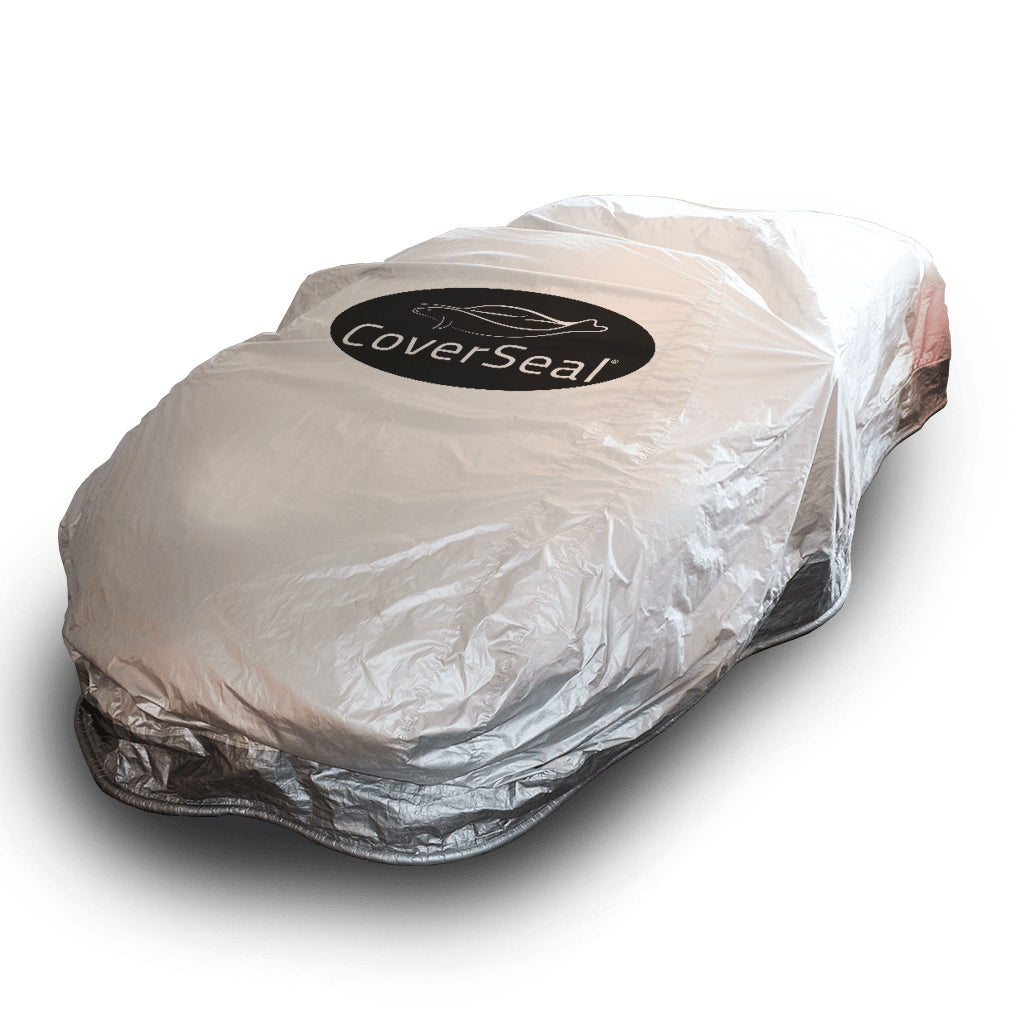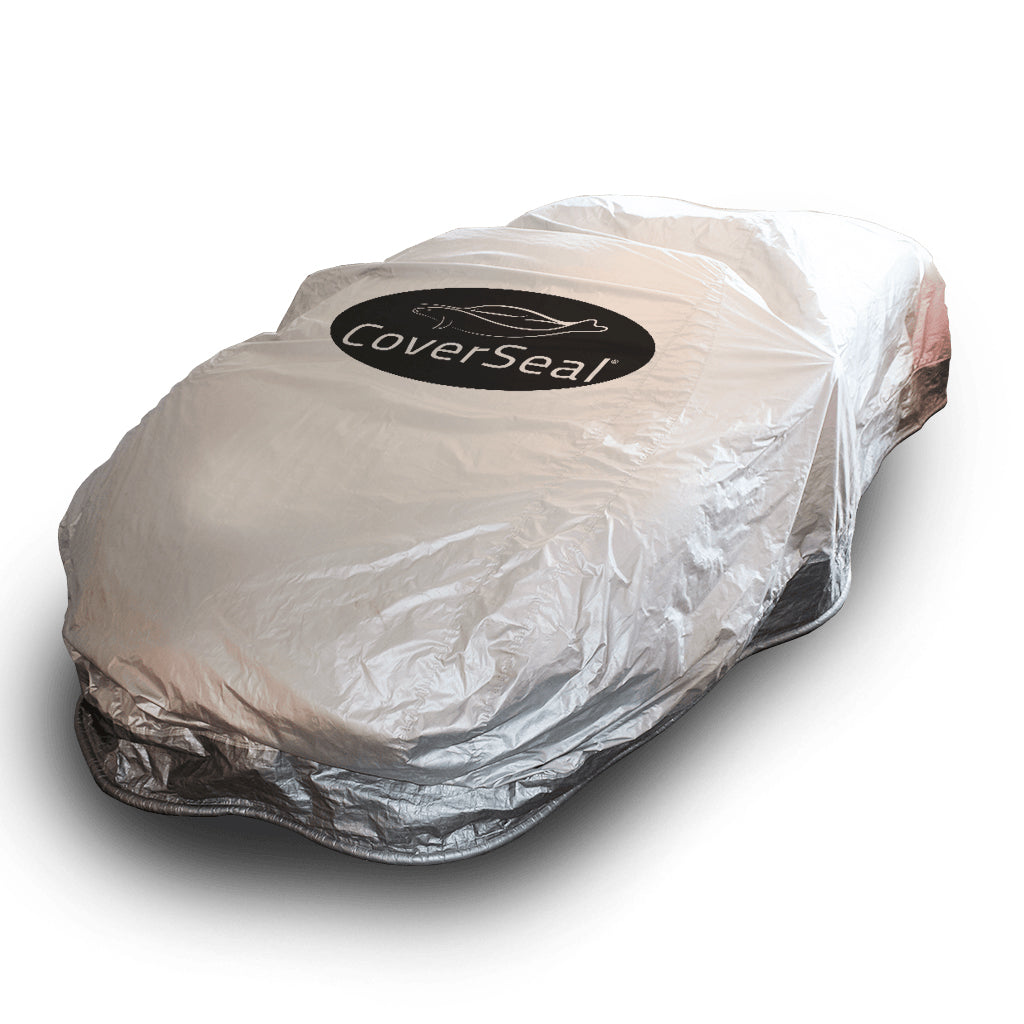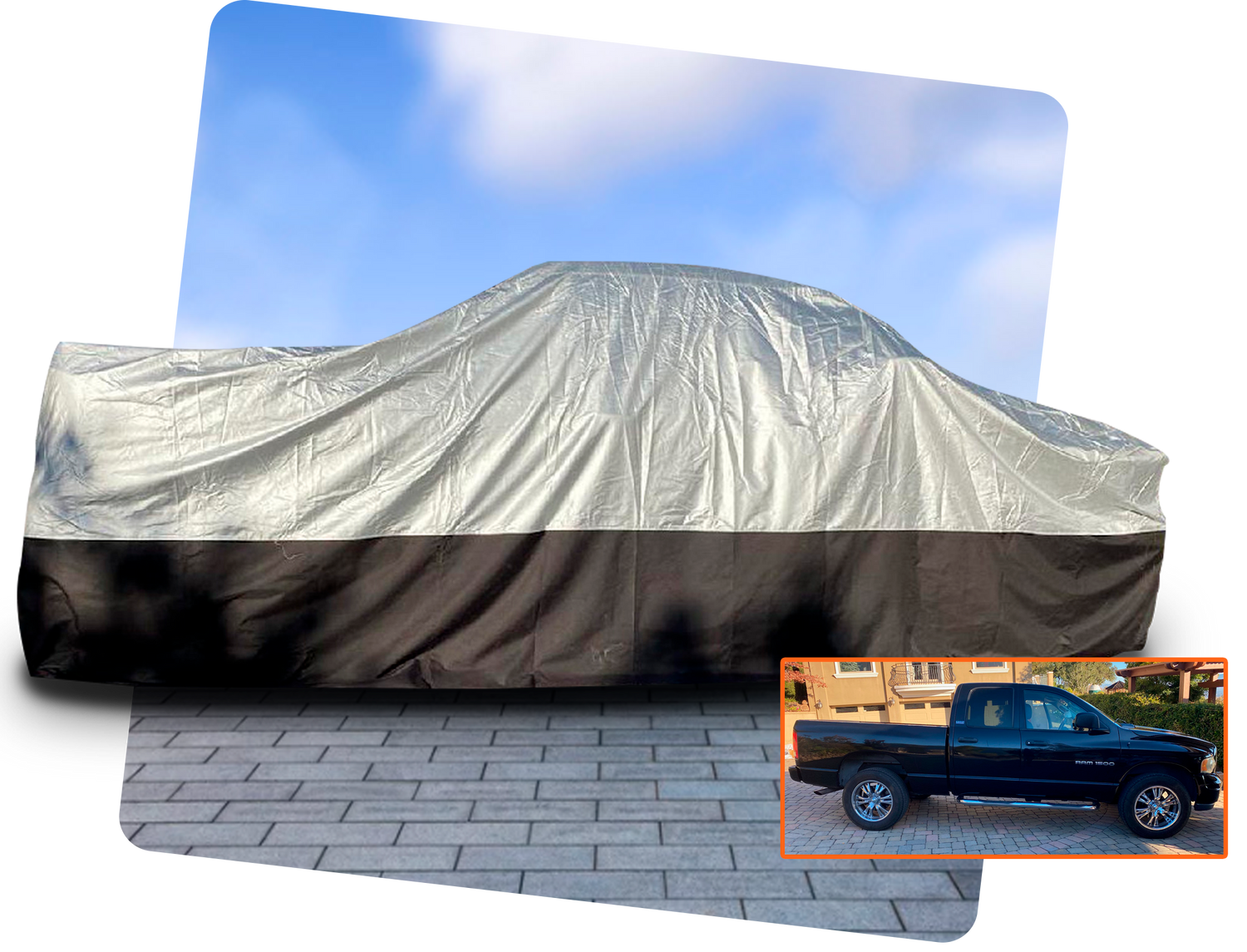 Secures Your Car
The loose-fitting design of the CoverSeal Light-Duty Indoor Use Car Cover protects the paintwork while making the model unrecognizable and secure.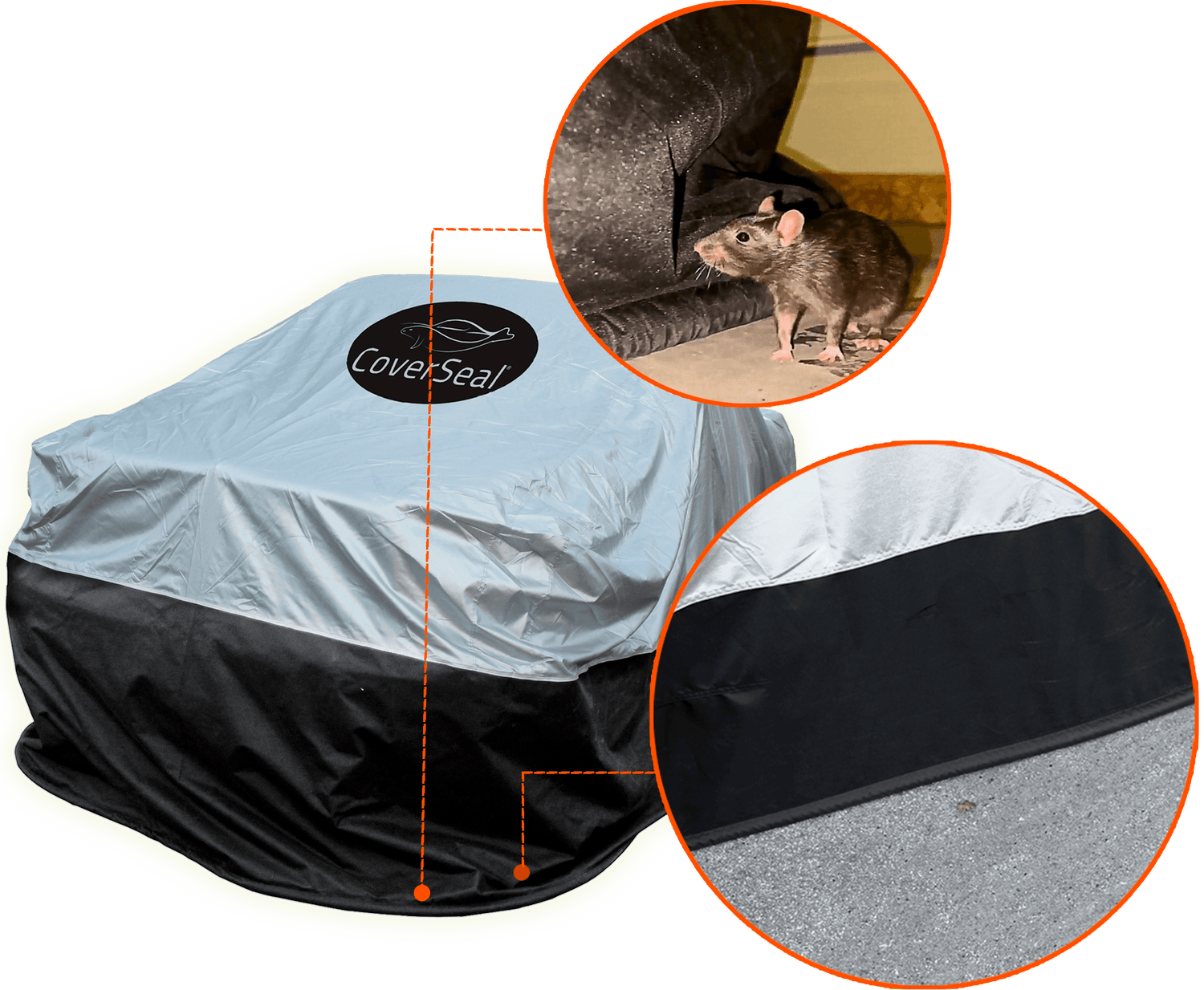 Universal Fit
Our universal car cover is lightweight, simple to maneuver, and a weighted apron holds it securely in place; Ideal as a sedan car cover for popular models such as Chrysler 300, Tesla Model X, Lincoln Town Car, or Bentley Flying Spur while suitable for the medium SUV's under 70" high; Smooth-foldable for space-saving storage, this car cover is a car accessory like no other.
FAQ
How do CoverSeal covers prevent rodent damage?

CoverSeal uses its patented weatherproof, weighted apron to seal the cover to the ground. Critters of all shapes and sizes avoid lifting the cover's heavy edge.  They will travel around the cover, realize there is no entry point, and move on in search of a more convenient shelter.
Is it OK for the cover to sit on the ground?

The bottom edge apron is completely waterproof it is made of thick >10mil high grade tarp.  This material does not degrade sitting on the ground.
Why isn't the cover more form fitting?

The covers are designed to be loose fitting.  The main reason is that it allows them to flutter in the wind.  Water is trapped in nooks and depressions in most covers, but CoverSeal will billow up in the wind, snapping the excess water off the cover.
Does the cover come in any other color?

Silver reflects >90% of the sunlight.  It keeps the materials, furniture and barbecues cool.  The reflected sunlight also doesnt degrade the color of your cushions and improves the lifetime of the cover, keeping the CoverSeal material in top shape.
Why doesn't the cover have side-mirror pockets?

Many covers rely on the side mirror pockets to help lock the cover onto the car, especially in wind.  These are not needed with CoverSeal.  The weighted apron provides a much more effective locking of the cover down on the car.